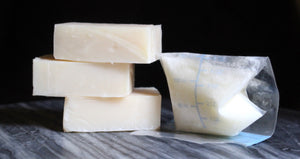 Queenbeenaturals
Custom Breastmilk Soap 🤍🍼🤍🍼
Regular price
$140.00
Sale price
$180.00
Unit price
per
we need 19-27oz for two whole loaves ! (You can send up to 27oz) That's approximately 20 bars ! Usually 20 bars of our cold processed soap costs $180+ but we do these in bulk with minimal packaging so the cost to you is only 140$! We can customize the color , smell , etc ! Or leave it as natural as possible with nothing but your breastmilk !

🍼 did you know breastmilk is high in fats and therefore ideal for making a creamy soap. It naturally contains more sugars than other types of milk used in soap making, which gives a finished bar of breast milk soap a silky lather. Breastmilk soap works very soothing for various skin issues, like diaper rash and eczema. 🤍🍼🤍🍼🤍🍼🤍
directions to send : send your frozen breastmilk , double bagged & taped shut , to :  
Queen Bee Naturals 
P.O. Box 154
1928 central ave 
mckinleyville ca 95519 
 A small envelope / package with 14oz-16oz of breastmilk is usually only around $3-$4! 
*please note, natural cold processed soap takes over 4 weeks to cure. 
*20 bars of soap will last you a very long time! approximately 24 months
---
Share this Product
---